Return to Headlines
Fort Payne Middle School Robotics Wins State Honors in 3M Young Scientist Competition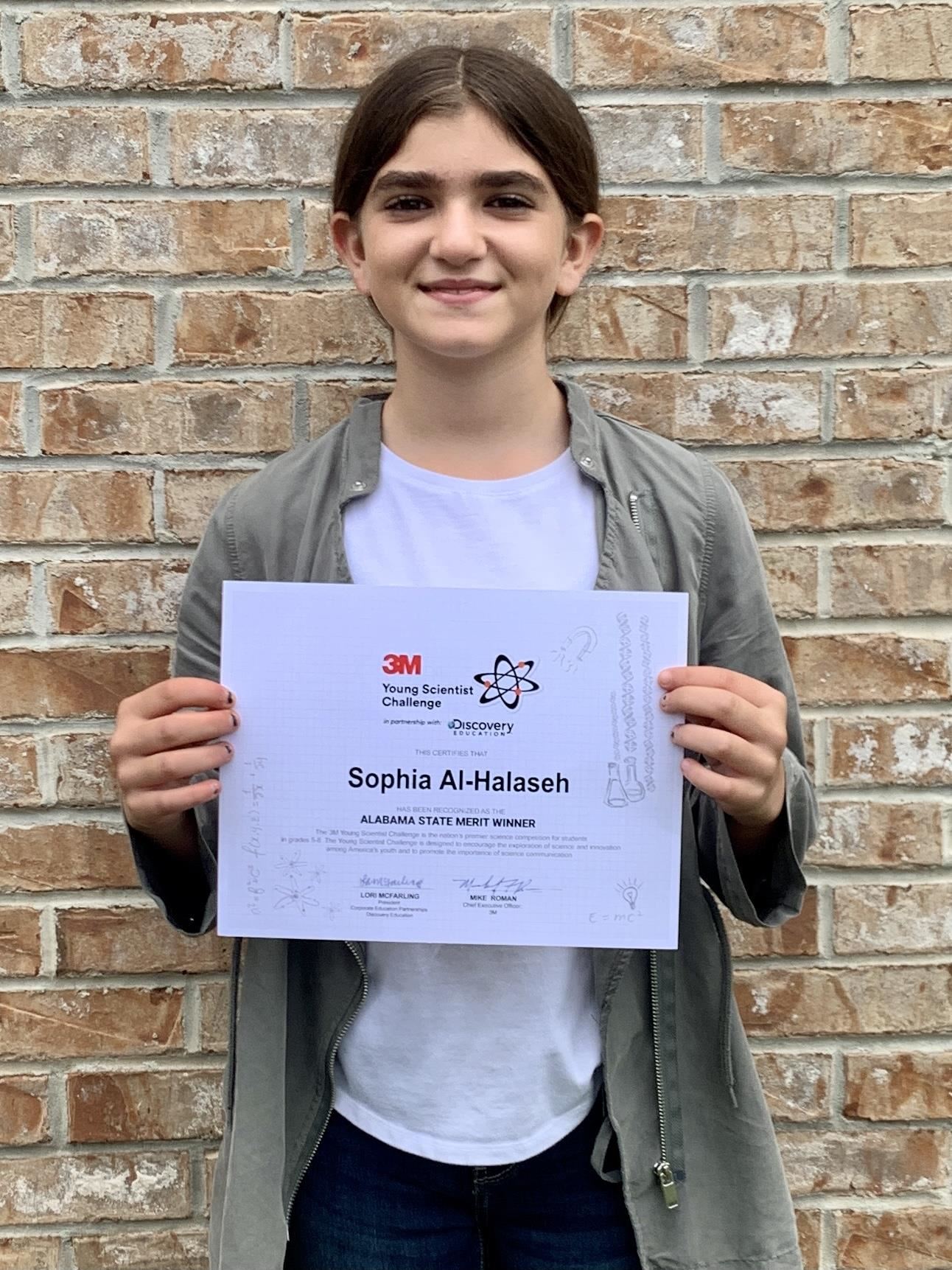 Since winning 2nd place State Champions, Mystery Machinery, one of the robotics teams from Fort Payne Middle School, has been busy. Their 2nd place win at state was due in part to their innovation project, The Sore Be Gone, shoes that massage your feet as you walk. For the second year in a row, they won the Global Innovation Award nomination for their invention. They placed in the top 300 teams out of 35,000 teams worldwide. This made them eligible to compete in the Amazon International Invitational in June. Fort Payne Middle School has swept the innovation category for the previous 4 years. Team members included: Gavin Baumgartner, Blake Loudermilk, Sophia Al-Halaseh, Seanna Lance, Will Barksdale, Cade Groghan, Amy Maks, Nicole Rosales, and Grayson Hester.
Then, they set their sights on another prize! Team members selected Sophia Al-Halaseh, Project Team Leader, to present their invention, The Sore Be Gone, in The 3M Young Scientist Challenge. She spent many hours preparing for the competition, which challenged students in grades 5-8 to think creatively and apply the power of Science, Technology, Engineering, Arts, and Math (STEAM) to discover real-world solutions to everyday problems. She submitted a two-minute presentation on the project and was evaluated on creativity, scientific knowledge, and communication effectiveness.
Fort Payne Middle School is delighted to announce that Sophia Al-Halaseh received the top scoring entry in all of Alabama, making her the Alabama State Merit Winner! As the nation's premier middle school science competition, the 3M Young Scientist Challenge received hundreds of entries from students all over the country. As a 3M Young Scientist Challenge State Merit Winner, Sophia received a 3M prize pack with a tablet. To learn more about the 3M Young Scientist Challenge and meet this year's finalists, visit YoungScientistLab.com.
"I am proud of the entire team for their huge achievements this year. As Project Team Leader, Sophia used her passion for STEAM and innovation as well as her superb communication skills to accomplish an amazing feat," said Fort Payne Middle School Coach Regan McClung. "As a veteran theatre educator and 5 year Robotics coach, I believe STEM must include the A for Arts. I believe STEAM Education's focus on communication skills have given us the edge needed to compete at such an esteemed level. Additionally, applying STEAM knowledge to positively impact the world, Sophia exemplifies this core value of the robotics program, and I am certain that if developed their invention could revolutionize the world of sore feet."
Sophia said this about her experience, "Competing in this competition was very challenging, but equally rewarding in the end. It was empowering to even enter a competition like this, let alone get the highest score in the state! Joining robotics gave me the skills I needed to accomplish this. I know that it has given me so many opportunities that I would have missed otherwise. I am only 12 and I have accomplished so much thanks to my team, coaches, mentors, and of course, STEAM. STEAM has impacted my life now, and it will certainly continue to in the future.
Young Scientist Lab provides no-cost dynamic digital resources for students, teachers, and families. Additional digital resources, content and professional resources are available within Discovery Education's K-12 learning platform and at YoungScientistLab.com.